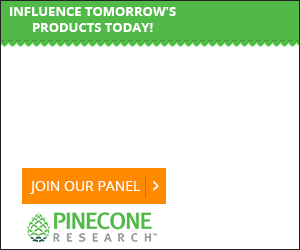 They have just opened more spots for August so HURRY!!!!
Yay! I'm so excited to tell you that Pinecone Research is looking for new survey takers! They do not have open registration (you can only sign up via an invitation from a current member)! Hurry on over here to sign up, I can almost guarantee the spots will be filled up quickly.
Important – *Be sure to CONFIRM your email address where they will send you an email so you can start getting surveys!
(As you can see above, you do get paid and quite often – they will send you a check every single time you complete a survey)
Pinecone Research is one my absolute favorite and BEST survey companies out there!
You get paid $3.00 on every survey and you don't have to worry about qualifying for it because if they send you a survey, and you take it, you will get the $3.00!
You can be paid either through Paypal or via check which usually happens within a few days of taking the survey.
And sometimes you will get the new product which you are doing the survey about at your front doorstep to test out, keep, and then take another survey about it (earning another $3.00)! So $6 and a FREE product – I told you, I love Pinecone.
POST AD GOES HERE
This post may contain affiliate links or sponsored content, read our Disclosure Policy.